1. What is your go-to item?

Since there's nothing in fashion that I would wear consistently (besides this sweet star necklace) This has got to be liquid eyeliner! I've tried to wean myself off, but it really is my signature look. I can downplay it with the eyeliner pens, like one I've tried from Ulta, for a more natural look.
2. What is your secret weapon? (Moroccan Oil? Great shoe insoles? Spanx? Give it up!)
I have a few secret weapons, if you care. One is Plus White whitening gel with a homemade mouthguard dental tray. REALLY WORKS and is less than $10 for the whole deal. Also, baby powder for soaking up any hair oils. My hair is light enough to escape the dandruff look. Plus my hair smells good. Also, having a stick concealer handy is always good (zits, bags, etc.). I use Maybelline cover stick in "medium". Although I am pale, "light" is too ghostly.

3. What is on your (realistic) wish list right now?
Nothing much! I've heard Margin blush from MAC is really good, though. Always looking for great accessories!

4. How do you keep things fresh everyday?
By mixing patterns and textures. Nothing in my closet can ever be "old" to me. Also, fun hairstyles can give you a new personality (braids, different orientations of "the bun", flower clip, headband)

5. If you could go shopping with anybody, who would it be and why? No one specifically, but shopping with enablers is always fun!

6. Who is your Fashion Icon?
Brigitte Bardot, Zooey Deschanel, Jenna Elfman from "Dharma & Greg", and Barbara Eden in "I Dream of Jeannie".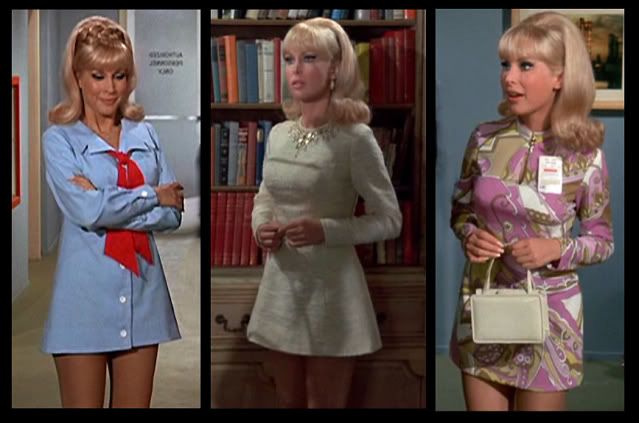 7. What's the most important thing you've learned about fashion?
There aren't any real "no-nos"...There is a time and a place for everything. Cofidence is style.

8. What do you do to keep yourself fresh & looking great during travel/vacation?
Perfume, face powder or blotting sheets (I get oily on planes!), and a fun scarf.

9. What is the best cheap/drugstore item that is totally underrated?
NYC Liquid Eyeliner in black ($1.79)
10. What is the one item you should splurge on?

Shoes, duh. What do you wear the most? Plus, it's your FEET. Health starts from the bottom up. Anthropologie and Aldo are my favorite places that consistently have great shoes. (Aldo for work shoes, Anthro for work/play).
The first to people to respond to me on this lil' post will be receiving NYC liquid eyeliner!